March 9, 2017, by Leigh Rudd
The influence of Art Deco Fashion is the most familiar aspect of the 1920's and the "Jazz Age" which influences every part of fashion. It goes way beyond the cloche hat and the flapper dress we all know. Art Deco is the term used to a particular design aesthetic of the era of artistic design between 1909 and 1939.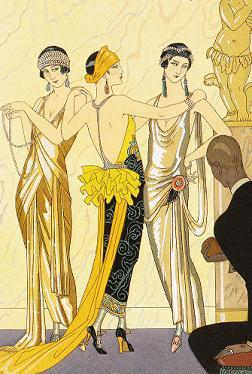 I won't kid you… Art Deco is my favorite design movement of all time. It is elegant but decadent.  Lines are simple, shapes clean with a modern and streamlined look created from its geometric and stylized design. It stands the test of time and for 2017/2018 is returning to the fashion scene.  There is so much we can utilize in fashion today:  For example…
The pulled-down cloche is so flattering to the face
The lightweight fabrics like silk, satin, silk jersey that drapes gently over the body.  Note the elegant details like seed pearl embroideries.
And the accessories accompany any of the fashions today. I love those elegant beaded bags and the huge silk Japanese shawls.
And the hair décor is memorable, of course. Note: The Great Gatsby.
1920's fashion complimented the female figure… however, it tended toward androgyny (like today) because of the de-emphasis of the female breast. And today, of course, the "boyish" look is a Major On-Going Trend.
ART DECO WAS NAUGHTY AND SEDUCTIVE
Related posts: